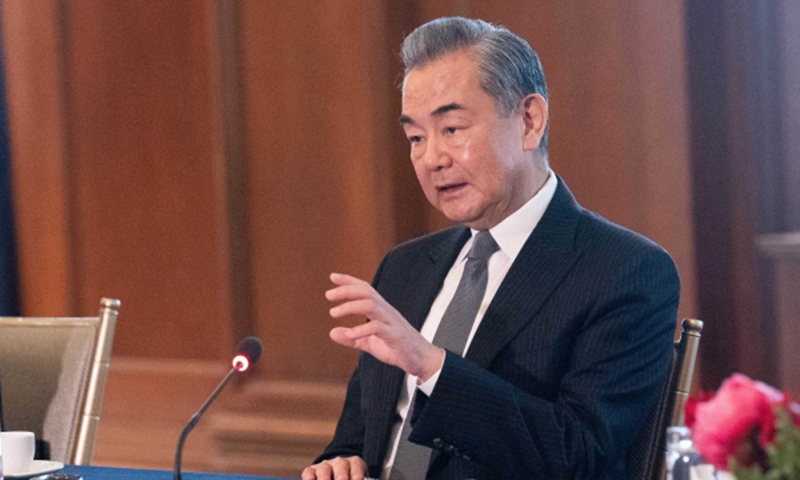 WASHINGTON: When noting that China and the US agreed to work together for the meeting between the two heads of state in San Francisco, Chinese foreign minister Wang Yi said on Saturday that "the path to San Francisco" will not be an easy one, and there is "no self-driving to it."
Therefore, both sides need to earnestly "return to Bali [consensus]," truly implement the common understanding reached by the two leaders, remove disruption, overcome obstacles, build consensus, and accumulate outcomes, Wang said.

Chinese analysts believe this signals Beijing's discontent with Washington's lack of sincerity and efforts in stabilizing China-US ties. The US recent moves of reaching out to China mainly serve for convening a grand APEC meeting, yet falls short of responding to China's core concerns, warned Chinese observers. They said Wang's comment that there is "no self-driving" to San Francisco is a reminder to the US to rein in its toxic domestic politics that are highly antagonistic of China; and that high-level communication between China and the US won't come "automatically" unless the US makes more efforts.

Despite the various differences and contradictions between the two countries, and there are still many issues that need to be resolved, both sides believe that maintaining dialogue between the two major countries is beneficial and necessary. They both hope that bilateral relations can stabilize and strive for improvement as soon as possible, Wang, also member of the Political Bureau of the Communist Party of China Central Committee, said in a discussion with members of the US strategic community in Washington on Saturday.
Wang also held talks with representatives from US business circles in Washington on Saturday. Wang stated that the driving force for cooperation between China and the US remains strong, the foundation remains solid, and the space for cooperation remains vast.

He expressed the hope that everyone will seize the new opportunities offered by China's high-quality development and high-level opening-up, play a role as a ballast stone in economic and trade cooperation, cultivate friendly public opinion and social foundation between the two countries.

Wang held two rounds of talks with Blinken on Thursday and Friday, during which the two sides agreed to work together toward a meeting between the two heads of state in San Francisco.

When he met with the US President Joe Biden on Friday, Wang said that his visit is aimed at communicating with the US side to follow through on the important common understandings reached by the two heads of state, and proceed from the Bali summit towards a San Francisco summit, so as to prevent bilateral ties from further deteriorating and bring the China-US relationship back on the track of healthy and steady development at an early date.

From Wang's remarks and recent news reports, it is clear that China is not satisfied with US' sincerity and efforts in improving the bilateral ties, Wu Xinbo, director of the Center for American Studies at Fudan University, told the Global Times. Wu pointed out that the recent eagerness from the US to reach out to China is partly due to Biden's hope of hosting a grand APEC leaders' meeting; but the US failed to address issues concerning China's core interests.

Via a grand meeting, Biden tries to send a signal to US' domestic audience that Biden is capable of stabilizing China-US relations while engaging in intense competition with Beijing, said Wu.

Washington did not cease its crackdown on China's tech industry. The Biden administration is reducing the types of semiconductors that American companies can sell to China, citing the desire to close loopholes in existing regulations announced last year.

Earlier this month, US media NBC reported that officials in Biden's administration have privately told lawmakers that the White House is preparing a supplemental funding request to submit to Congress that includes money for Israel, Ukraine, Taiwan and US border security.

During his US visit, Wang told US National Security Advisor Jake Sullivan that "Taiwan independence" is the biggest threat to peace and stability across the Taiwan Straits and the biggest challenge facing China-US relations. It must be firmly opposed with concrete policies and actions.

Li Haidong, a professor at the China Foreign Affairs University, told the Global Times that the US should also rein in its toxic domestic politics that is highly confrontational against China. "The US domestic politics itself is highly confrontational, and they need to resolve internal conflicts by creating external enemies. This trend means that there will always be confrontation in US-China relations."

The US side needs to make sure that anti-China hawks won't thwart the efforts of pushing for a meeting between the two heads of state in San Francisco, Li said.

US Senate Minority Leader Mitch McConnell recently referred to China, Russia and Iran as the new "axis of evil" that the US must confront in an interview with the US media on October 22.

The US cannot count on setting up a time and place and hope high-level meetings between the two countries to occur "automatically," more needs to be done by the US to stabilize bilateral relations, said Wu.

The majority of people in both China and the US have rationally realized that if conflict and confrontation occur between China and the US, the world would undoubtedly face catastrophe. However, this does not mean that we can automatically avoid this worst-case scenario by adopting a "lying-flat" attitude, Chinese former ambassador to the US Cui Tiankai said at a high-level dialogue at the 10th Beijing Xiangshan Forum on Sunday.

Since June this year, the two countries have embraced more frequent high-level exchanges, with Blinken, US Commerce Secretary Gina Raimondo, US Treasury Secretary Janet Yellen and US Special Envoy on Climate Change John Kerry visiting China respectively. The most recent one is California governor Gavin Newsom, who has received a warm welcome in China as his open-mindedness on cooperation has been highly praised by the Chinese public.

China-US economic working group held its first meeting via video link last week. The US also sent participants to the 10th Beijing Xiangshan Forum scheduled from Sunday to Tuesday.

In the upcoming winter-spring flight season, the number of China-US direct regular passenger flights is expected to increase from the current 48 (24 round trips) per week to 70 per week, CAAC News reported on Saturday citing the Civil Aviation Administration of China.

Overall, negativity still prevails positivity in terms of China-US relation since the "balloon incident" when bilateral ties froze, Da Wei, director of Center for International Security and Strategy at Tsinghua University, told the Global Times, noting that now is the window of opportunity for the two to stabilize ties and prevent the relations from reaching another nadir.

Wu said that the window of opportunity for the two countries to stabilize ties is rather short, as China will closely watch if the US will return to its reckless crackdown on China after the possible higher-level meeting. He also noted that the bilateral relations also face ordeals from the 2024 elections for Taiwan's regional leader; and next year's US election also poses a challenge as playing the "China card" is a usual tactic by presidential candidates.