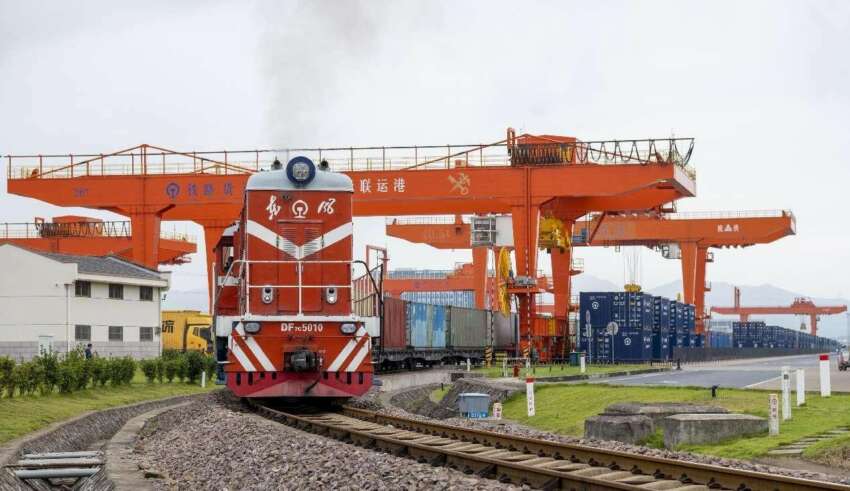 Trains loaded with Southeast Asian agricultural products such as durians and mangosteens are now frequently entering China through the Mohan railway port in southwest China's Yunnan province, along the China-Laos Railway.
Photo shows a container ship at the Piraeus Port, Greece. (People's Daily/Meng Xianglin)
Since the beginning of this year, the China-Laos Railway has transported over 14 million tons of goods to and from Laos, Thailand, Vietnam, Myanmar and other countries. The logistics vitality of the China-Laos Railway continues to rise, serving as a vivid example of the Belt and Road Initiative (BRI) promoting connectivity and fostering interconnected development.
Over the past 10 years, the BRI has taken "hard connectivity" of infrastructure as an important direction, "soft connectivity" of rules and standards as an important support, and "people-to-people connectivity" among partner countries as an important foundation. It has vitalized global connectivity and common development, improving global economic governance and promoting the healthy development of economic globalization.
The essence of the BRI is to promote infrastructure development and connectivity, enhance coordination of economic policies and synergy of development strategies, foster synergetic and interconnected development, and achieve shared prosperity.
Over the past 10 years, the "hard connectivity" of infrastructure has been constantly enhanced.
Connectivity is about connecting physical structures. China's cooperation should extend to wherever roads, railways, air routes and the Internet take it.
Photo shows a roundabout of a ring expressway built by Chinese enterprises in Lodz, Poland. (Photo/Han Tiegang)
The construction of six major international economic cooperation corridors and the development of surrounding infrastructure have been steadily advancing. Iconic projects such as the Jakarta-Bandung High-Speed Railway, the Mombasa-Nairobi Railway, the Addis Ababa-Djibouti Railway, and the Piraeus Port have been successfully completed. The China-Europe freight service now operates on 84 routes, connecting 211 cities in 25 European countries. The New International Land-Sea Trade Corridor reaches 465 ports in 120 countries and regions worldwide.
Thanks to Belt and Road cooperation, many countries have tackled long-standing infrastructure bottlenecks and integrated into the global supply, industrial and value chains.
American futurists the Nesbitts remarked that never before in history has anyone attempted to connect so many countries and continents in the economic realm by implementing a series of policies.
Over the past 10 years, the "soft connectivity" of rules and standards has been significantly strengthened.
Connectivity is about connecting rules and regulations. When coordination and cooperation are enhanced and regulatory obstacles are reduced, logistics will become smoother and exchanges more convenient.
In the past decade, China and other Belt and Road countries have made positive progress in areas such as aligning work systems, coordinating technical standards, mutually recognizing inspection results, and networking electronic certificates. The benefits of the Regional Comprehensive Economic Partnership have started to emerge, and China ranks first in the world in terms of the number of Authorized Economic Operator agreements.
From 2013 to 2022, China's trade in goods and non-financial direct investment with other Belt and Road countries grown 8.6 percent and 5.8 percent each year on average, respectively, and their cumulative two-way investment exceeded $270 billion.
According to Belt and Road Economics, a report released by the World Bank, the BRI, when fully implemented, will increase intra-BRI trade by 4.1 percent.
Over the past 10 years, the "people-to-people connectivity" among partner countries has become increasingly splendid.
A China-Europe freight train departs from Jinhua, east China's Zhejiang province, for Central Asian countries, Oct. 6, 2023. (People's Daily Online/Hu Xiaofei)
Connectivity is about connecting the hearts of people. With enhanced mutual understanding, countries can achieve better communication and be more successful in their endeavors.
The 600 wells drilled by a Chinese company in Malawi have become "wells of happiness" benefiting 150,000 local people. The Luban Workshop has imparted vocational skills to young people in Tajikistan and other countries. China's Juncao technology has taken root in over 100 countries, becoming a "grass of prosperity" for local people…
The BRI adheres to a people-centered development philosophy, and focuses on eliminating poverty, increasing employment and improving livelihood, so as to ensure that the fruits of cooperation benefit the people of all countries involved.
The BRI promotes sharing of development experiences, thus reinforcing many countries' confidence in pursuing development paths suited to their national conditions.
The BRI also fosters a stronger people-to-people bond, building mutual appreciation, understanding and respect among the peoples of participating countries.
"We need to promote a global partnership of connectivity to achieve common development and prosperity. I am confident that as we work closely together, we will transcend geographical distance and embark on a path of win-win cooperation," said Chinese President Xi Jinping.
Currently, economic globalization is facing headwinds, and global trade remains sluggish. The importance of strengthening connectivity has become even more prominent.
At the upcoming third Belt and Road Forum for International Cooperation, China will collaborate with all relevant parties to outline a new blueprint for connectivity, promote coordinated and interconnected development and inject new impetus into the recovery of the world economy.