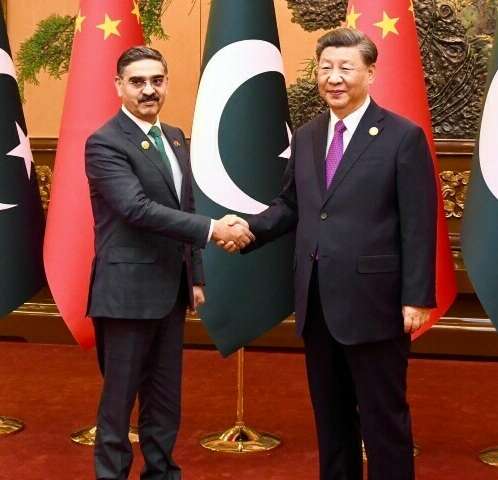 BEIJING: Prime Minister Anwaarul Haq Kakar on Thursday met Chinese President Xi Jinping in Beijing and hailed Pakistan's partnership with its neighbour as 'made in heaven'.
"We will always stand with China and trust you blindly," the premier told President Xi during a meeting on the sidelines of the third Belt and Road Forum (BRF) for Inter­national Cooperation.
The premier is in China on a two-day visit to attend the forum which is being held amid the backdrop of ongoing celebrations marking 10 years of the China-Pakistan Economic Corridor (CPEC).
A day earlier, the two countries had decided to expand the scope of the multibillion-dollar infrastructure project, which will now diversify to areas like industrial development, ICT, livelihood projects, mining and mineral exploration, and agriculture.
During his meeting with President Xi today, PM Kakar expressed Pakistan's "deep commitment" to China. He described the ties between the two countries as "sweeter than honey" and an "iron-clad brotherhood".
"The kind of global challenges that many nations are facing today, they need answers — deep and long-term answers. And the Belt and Road Initiative is an answer to all those questions," Kakar said.
He stated that the path of modernisation adopted by China for the past many years was a lesson for Pakistan on how a country could transform the lives of millions of people.
Kakar reiterated that Pakistan would stand steadfast with China and there was no "dissenting view" in this regard.
"I reiterate that Pakistan will not allow anything to undermine our strategic partnership and we actually mean that. We will continue to strengthen, realise and articulate in our actions […] we will not just show commitment through words but also through action," he said.
The Chinese should be assured that Pakistan would not "take back an inch" in its relationship with China, the PM vowed.
Separately, in a post on X (formerly Twitter), Kakar said: "President Xi reassured that China would continue supporting Pakistan's sovereignty, territorial integrity and development, and would continue supporting us in harnessing our geo-economic potential and as a hub of regional trade and economics, which is our shared vision".
He added that the Chinese President had also accepted his invitation to visit Pakistan at the earliest.
https://platform.twitter.com/embed/Tweet.html?dnt=false&embedId=twitter-widget-0&features=eyJ0ZndfdGltZWxpbmVfbGlzdCI6eyJidWNrZXQiOltdLCJ2ZXJzaW9uIjpudWxsfSwidGZ3X2ZvbGxvd2VyX2NvdW50X3N1bnNldCI6eyJidWNrZXQiOnRydWUsInZlcnNpb24iOm51bGx9LCJ0ZndfdHdlZXRfZWRpdF9iYWNrZW5kIjp7ImJ1Y2tldCI6Im9uIiwidmVyc2lvbiI6bnVsbH0sInRmd19yZWZzcmNfc2Vzc2lvbiI6eyJidWNrZXQiOiJvbiIsInZlcnNpb24iOm51bGx9LCJ0ZndfZm9zbnJfc29mdF9pbnRlcnZlbnRpb25zX2VuYWJsZWQiOnsiYnVja2V0Ijoib24iLCJ2ZXJzaW9uIjpudWxsfSwidGZ3X21peGVkX21lZGlhXzE1ODk3Ijp7ImJ1Y2tldCI6InRyZWF0bWVudCIsInZlcnNpb24iOm51bGx9LCJ0ZndfZXhwZXJpbWVudHNfY29va2llX2V4cGlyYXRpb24iOnsiYnVja2V0IjoxMjA5NjAwLCJ2ZXJzaW9uIjpudWxsfSwidGZ3X3Nob3dfYmlyZHdhdGNoX3Bpdm90c19lbmFibGVkIjp7ImJ1Y2tldCI6Im9uIiwidmVyc2lvbiI6bnVsbH0sInRmd19kdXBsaWNhdGVfc2NyaWJlc190b19zZXR0aW5ncyI6eyJidWNrZXQiOiJvbiIsInZlcnNpb24iOm51bGx9LCJ0ZndfdXNlX3Byb2ZpbGVfaW1hZ2Vfc2hhcGVfZW5hYmxlZCI6eyJidWNrZXQiOiJvbiIsInZlcnNpb24iOm51bGx9LCJ0ZndfdmlkZW9faGxzX2R5bmFtaWNfbWFuaWZlc3RzXzE1MDgyIjp7ImJ1Y2tldCI6InRydWVfYml0cmF0ZSIsInZlcnNpb24iOm51bGx9LCJ0ZndfbGVnYWN5X3RpbWVsaW5lX3N1bnNldCI6eyJidWNrZXQiOnRydWUsInZlcnNpb24iOm51bGx9LCJ0ZndfdHdlZXRfZWRpdF9mcm9udGVuZCI6eyJidWNrZXQiOiJvbiIsInZlcnNpb24iOm51bGx9fQ%3D%3D&frame=false&hideCard=false&hideThread=false&id=1714983918489764278&lang=en&origin=https%3A%2F%2Fwww.dawn.com%2Fnews%2F1782119&sessionId=971bcd9219e37e6ba36dec68e3e0f907e8da1afa&siteScreenName=dawn_com&theme=light&widgetsVersion=01917f4d1d4cb%3A1696883169554&width=550px
PM seeks more Chinese investment
Earlier in the day, Kakar also met a number of Chinese corporate executives.
During the meetings, the premier encouraged Chinese firms to explore the "vast investment potential in Pakistan, especially in information technology, agriculture, renewable energy, textile, digital economy and the mining sector".
According to the report, the PM apprised Chinese businessmen of Pakistan's initiatives for economic and financial stability.
Sharing Pakistan's vision for sustainable and inclusive development, he outlined Pakistan's investor-friendly policies, including the establishment of the Special Investment Facilitation Council, which he said would act as a one-window platform to facilitate foreign investment.
Meanwhile, Chinese entrepreneurs briefed the premier on their business portfolios in Pakistan and expressed interest in working with Pakistani partners.
PM Kakar also invited the executives to Pakistan to discuss their business interests with the relevant ministers.