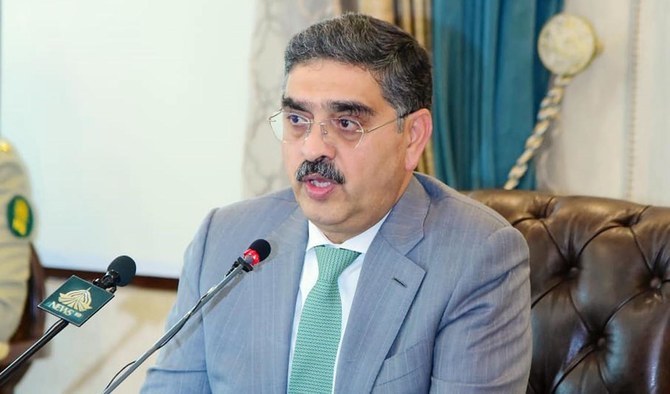 Caretaker Prime Minister Anwaar-ul-Haq Kakar interacted with Islamabad based foreign media on 4th of September, 2023.
ISLAMABAD: Caretaker Prime Minister Anwaar-ul-Haq Kakar has termed the China-Pakistan Economic Corridor as 'once in a century-time opportunity' and said that Pakistan is focusing on the project's second phase to attain rapid economic and industrial growth.
In an interview with China's Phoenix TV aired on Tuesday, the prime minister said the CPEC initiated under China's Belt and Road Initiative had helped Pakistan witness significant development in diverse sectors.
The prime minister mentioned that China's Urumqi and Pakistan's northern Gilgit-Baltistan had huge prospects for cooperation, particularly in trade and tourism.
He said Pakistan was expecting big economic activity and an influx of tourists between the two countries, which he said would bring an improvement to the social and economic lives of the people.
"Urumqi could become an opening gateway for us to the mainland China. It is a win-win situation for both Pakistan and China," he said.
Also, he mentioned the progress in Balochistan after the underdeveloped province was integrated through the CPEC projects.
On the significance of BRI, Kakar said the unique opportunity and transformation would not be restricted to Pakistan but would spread to the region with the development of north-south roads and rail and road networks.
This, he said, would lead to the enhancement of China's economic and political influence in the world.
PM Kakar said during his visit to China, he was "utterly and completely mesmerized" by the impressive journey of progress made by China.
"This impression would transform me as the biggest ambassador of Pakistan-China friendship," he said.
Asked to describe China in three words, he said, "Dignified, huge, and self-confident".
Of the Pak-China ties, he termed them as "closest, most valuable and most desired as valued deeply by both sides".
"Pakistan and China are intertwined. Though two different countries, but one nation moving in the same direction," he said.
On cooperation with China in green energy to combat climate change, he highlighted that Pakistan was one of the worst victims of natural disasters and would take it to various multilateral forums of the world and China.
"Climate change will determine our policies being an exponential threat to the country and the region. We cannot respond in isolation," he said.
About the rise of China seen as a threat by some countries, he said no power on earth could undo the emerging power.
"The correct approach to handle is to cooperate with China rather than to contain it," he said.
On relations with the United States, PM Kakar said the cooperation in areas of security and counter-terrorism continued as Pakistan was committed to fighting terrorism and extremism.
Asked about prospects of improvement in ties with India, he said Pakistan had very deep and complex challenges from the Indian side despite the constant efforts for peace.
"Peace seems to be an elusive idea from the other [India] side," he said.
He said Pakistan would not miss if there was any opportunity for improvement in relations with India, however, stressed that without the resolution of the issue of Jammu and Kashmir, a dialogue or a normal trade activity was "unthinkable".
On the role of the international community in the settlement of the Jammu and Kashmir issue, he said, "The world needs to prioritize the moral principles rather than its self-centered strategic interests."
On the situation in Gaza, he called for an immediate ceasefire and said that the "utterly unacceptable violence be treated as war crimes".
He stressed the creation of an unhindered humanitarian assistance corridor to Gaza to ensure the supply of essentials including food and medicines.