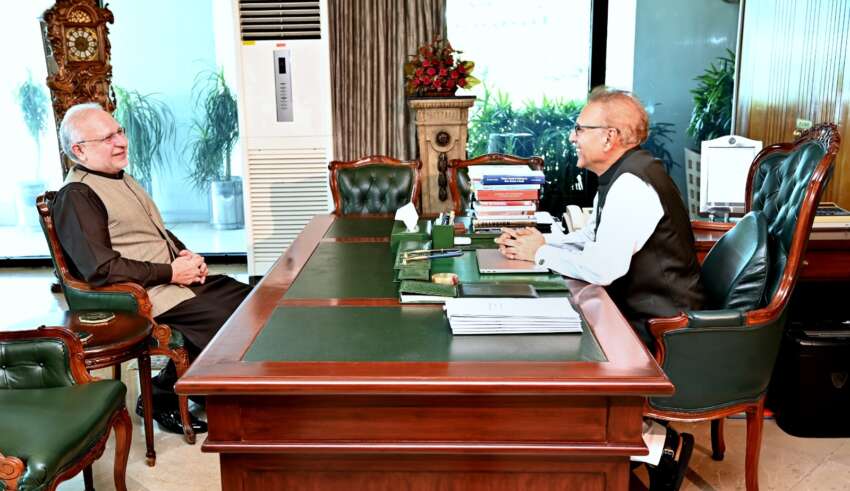 ISLAMABAD: In a major development, former information minister Senator Mohammad Ali Durrani made a significant breakthrough on Thursday and held a follow-up meeting with President Dr Arif Alvi here at Aiwan-e-Sadr as the efforts for opening a dialogue between Pakistan Tehreek-i-Insaf (PTI) and military establishment entered its second round.
A handout issued from Presidency gave no specific details about the second meeting held in the past fortnight, though this time around, a formal photo and official statement was released.
"Former Minister and Senator Mohammad Ali Durrani called on President Dr Arif Alvi here at Aiwan-e-Sadr. Political situation was discussed during the meeting," said the handout.
The meeting comes on heels of sudden return of former premier Shehbaz Sharif to London within 48 hours of his arrival, reflecting an apparent new gulf development with the establishment after hard-hitting statement by Nawaz Sharif lately, calling for accountability of former army chief General (R) Qamar Javed Bajwa and former Director General of the ISI, Lt. General (R) Faiz Hameed, besides some retired and serving judges under article 6 of the Constitution.
Later in the day, a PTI delegation led by former Speaker National Assembly Asad Qaiser called on Senator Durrani in the federal capital.
"The meeting held a detailed discussion on important issues regarding national unity. During the meeting, while keeping the wider national interest of the country and the nation, the importance of national consensus was also discussed," said a handout issued by PTI Khyber Pakhtunkhwa (KP).
During the meeting, the handout said, there was a principled agreement on the importance and effectiveness of the points made by Senator Mohammad Ali Durrani regarding Pakistan, democracy and the armed forces for the cause of national harmony and unity.
"The PTI delegation acknowledgment of Mohammad Ali Durrani's efforts for promoting political harmony in the country and solving the crisis on behalf of the PTI delegation. At the meeting, there was complete agreement on the promotion and continuation of the efforts for improving relations," the statement added.
Though Senator Durrani remains tight-lipped about his meeting with Dr Alvi, sources told DiploMag that Senator Durrani had shared three proposals with Dr Arif Alvi which are called Confidence Building Measures (CBMs) to help bring down the heat between the PTI and establishment.
The sources said that Asad Qaisar had actually met Senator Durrani on Wednesday night and being an old comrade of Senator Durrani, he assured his full support to his initiative.
When contacted, PTI leader Barrister Mohammad Ali Saif said that the PTI welcomed the initiative of Senator Durrani.
"We welcome any initiative that is aimed at bringing down temperature in the best interest of the country," he said and added that any initiative in interest of the country is appreciable.
It may be mentioned that Senator Durrani and Asad Qaisar are longtime friends and comrades as both used to work together in Jama'at-e-Islami's youth chapter called Pasban back in 1980-90s. Senator Durrani was top central leader of Pasban while Asad Qaisar used to head the provincial chapter of Pasban Khyber Pakhtunkhwa.
Both Durrani and Qaisar then joined Imran Khan in his fund-raising campaign for Shaukat Khanum Memorial Hospital. However, Durrani left Imran Khan in 1996 and did not support his launching of the PTI while Qaisar went along with Imran Khan and parted ways with Durrani and continued to support Imran Khan's PTI.