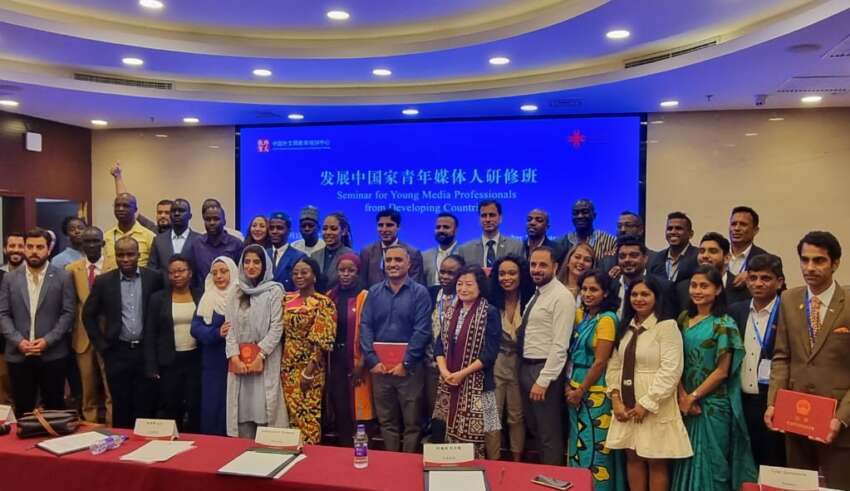 By Adnan Hameed
In an era where the flow of information is ceaseless and the media wields an unparalleled influence on public opinion, the role of media professionals has become more pivotal than ever before. It is in this dynamic landscape that I had the privilege of participating in an enlightening seminar designed to nurture the talents of young media professionals from developing countries.
This profound experience was made possible through the gracious support of the Ministry of Commerce, People's Republic of China, Embassy of the PR of China in Pakistan and meticulously organized by the CICG Institute of International Studies & Advanced Training, spanning from September 13 to September 26, 2023. This seminar convened bright talents from diverse corners of the world in the bustling city of Beijing, China.
A Journey of Knowledge and Commitment:
As an individual who has dedicated their career to the realms of journalism and media, I embarked on this unique opportunity with great enthusiasm. It was a platform not only to gain fresh insights but also to share my own knowledge and unwavering passion for responsible and impactful journalism. Throughout the course of this seminar, my commitment to empowering the next generation of media professionals became unmistakably evident.
The genesis of this seminar, conceived by the Ministry of Commerce, aimed at bridging the significant gap between media professionals from developing countries and the ever-evolving sphere of international journalism. It underscored the paramount importance of nurturing diverse voices and perspectives to foster a more inclusive global media ecosystem.
A Haven for Cross-Cultural Exchange:
The CICG Institute of International Studies & Advanced Training, renowned for facilitating cross-cultural learning and collaboration, played a pivotal role in orchestrating this enlightening experience. With its state-of-the-art facilities and a dedicated team, the institute ensured that participants received top-notch training and exposure to contemporary media practices.
Over the span of two enriching weeks, my fellow participants and I found ourselves immersed in a series of meticulously designed workshops, thought-provoking lectures, and interactive sessions that encompassed a wide array of topics. These ranged from digital journalism and ethical reporting to the art of multimedia storytelling and the pivotal role of media in shaping public opinion. The exchange of ideas and experiences among participants hailing from various corners of the globe not only enriched the learning experience but also fostered a profound sense of unity and collaboration.
Witnessing the Dynamics of Chinese Media:
One of the highlights of the seminar was a lectures series by the officials from relevant Chinese departments and experts and scholar's to introduce us the social and economic development history, politics and measures of China, especially the achievements and lessons learned since China's reform and opening up, as well as information on topics closely related to the theme of seminar. We were given opportunity to introduce our country's journalism industry, economic development and to intentions in relevant fields and to discuss opportunities and ways to expand industrial cooperation to local officials and relevant experts in the seminars.
It was an eye-opening experience that significantly broadened our horizons and deepened our understanding of the global media landscape.
Equipped to Make a Difference:
As the seminar concluded on September 26, 2023, we returned to our respective countries, equipped not only with fresh insights but also with a newfound vigor and a broader perspective on the pivotal role of media in shaping societies. Armed with the knowledge gained during this transformative experience in Beijing, we are now poised to make a significant impact on the media landscapes of our nations.
My unwavering commitment to empowering young media professionals from developing countries resonates with my dedication to the principles of responsible journalism. I firmly believe that a free and diverse media is the cornerstone of a more just and equitable world. The impact of my participation in this seminar has left an indelible mark on the hearts and minds of all those who had the privilege of learning alongside me.
Exploring China's Rich Cultural Heritage
During our sojourn in China, we had the opportunity to immerse ourselves in the rich cultural and historical heritage of this remarkable nation. Our itinerary included visits to renowned sites such as the China National Film Museum, the awe-inspiring Great Wall of China, the historical city of Dunhuang in Gansu Province, the serene Mingsha Mountain Crescent Spring, the enlightening Dunhuang Museum, the mystical Magao Caves in Dunhuang City, the ancient Tangguan Site, the cutting-edge Dunhuang Optoelectronics Industrial Park, and a captivating live performance drama titled "Le Dong Dunhuang." Additionally, we explored the enchanting Dunhuang Yardang National Geopark, the historic Yumen Pass, the ancient Great Wall of the Han Dynasty, the Hecangcheng Relief site, the bustling Beijing Hongqio Market (Pearl Market), and the iconic Qianmen Street.
These interactions not only added a cultural dimension to our learning journey but also gave rise to enduring friendships and connections that transcended borders.
A Global Network of Comrades:
Moreover, it was an honor to be part of a diverse and passionate group of participants hailing from countries such as Bahamas, Cameron, Ghana, Nigeria, Iraq, Iran, Pakistan, Palestine, South Sudan, Sri Lanka, Suriname & Zimbabwe. Our collective experiences, shared aspirations, and mutual respect forged bonds that transcend borders and have the potential to shape the future of journalism on a global scale.
Conclusion:
In conclusion, this seminar has been an extraordinary journey of growth, learning, and cultural exchange. It has reaffirmed my belief in the power of responsible journalism and the paramount importance of nurturing the talents of young media professionals. I extend my heartfelt gratitude to the Ministry of Commerce, People's Republic of China in Beijing for their unwavering support, the CICG Institute for their dedication, and my fellow participants for their camaraderie.
I would like to express my appreciation to all who have taken the time to share in this remarkable experience with me. It serves as a poignant reminder of the profound impact of international collaboration and lifelong learning. As we continue our journeys in the ever-evolving world of media, let us remain steadfast in our pursuit of making a positive and enduring impact on the societies we are committed to serving.
The author is Programme and Media Officer at China Cultural Center in Pakistan