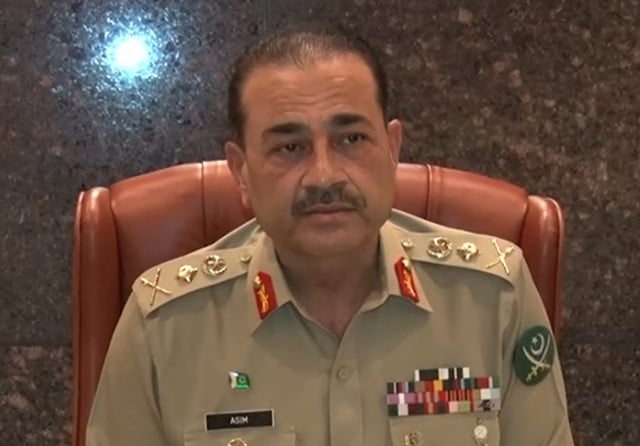 Chief of Army Staff (COAS) General Asim Munir on Monday inaugurated the Khanewal Model Agricultural Farm at an event seeking to bolster the agricultural sector and promote national prosperity.
The event witnessed the participation of distinguished dignitaries, local farmers, and officials from various sectors.
"Pakistan Army takes pride in serving its nation," stated the army chief, highlighting the military's dedication to the welfare of the people and the country.
"The army belonged to the people, and the people belonged to the army," COAS said, emphasising the strong bond between the armed forces and the civilians.
COAS Munir expressed his determination to steer Pakistan out of the prevailing crises, stating, "We have decided to lead Pakistan out of the current crisis." 
Addressing the nation's qualities, he praised the Pakistanis for their pride, self-respect, and competence, recognising the nation's potential to overcome challenges.
Referring to the prevailing economic challenges, the army chief remarked, "All Pakistanis have collectively rejected the beggar's bowl."
Grateful for the country's blessings, COAS Munir remarked, "Allah has bestowed Pakistan with numerous gifts."
Drawing attention to Pakistan's potential for progress, the army chief asserted, "No external force can hinder our journey towards advancement." He reaffirmed his belief in the nation's capability to achieve greatness in all domains.
COAS Munir hailed the government's plans for an agricultural uplift, expressing his confidence in the transformation of the agricultural landscape of Pakistan, saying, "Pakistan will witness an agricultural revolution, Insha'Allah."
The Khanewal Model Agricultural Farm is designed to benefit small-scale farmers and promote sustainable practices. The army chief announced that similar modern farms would be established across Pakistan, aiming to uplift the livelihoods of farmers and contribute to the nation's economic growth.
During the ceremony, the army chief invoked the poetic wisdom of Allama Iqbal, underscoring the significance of his words in guiding the nation's trajectory. "In the hands of individuals lie the destinies of nations; every individual is a star of the nation's fate," he recited, reminding all present of their collective responsibility towards the nation's progress.